Ray passed away at home on Saturday 30 April 2022
We extend our deep condolences and thoughts
to his family, friends, and loved ones.
Ray's musical legacy will live on!
Please use the contact page to send any personal tributes,
recollections etc. We have set up a dedicated page here
On Sunday 30 April 2023 at 18:00 GMT to mark the first anniversary of Ray's passing Get Ready to ROCK! Radio replays its tribute first broadcast in May 2022.
This includes Ray's pilot show for the station on Guitarists and Guitar Playing.  More information and listen link
60 YEARS OF MUSIC MAKING!
Ray Fenwick was one of Britain's foremost guitarists, session players and producers. He was also a talented songwriter and co-wrote the signature tune to the 1970's cult TV show "Magpie", amongst others.
Ray has played in many well-known bands since the mid-1960s, including Spencer Davis Group, Fancy, and Ian Gillan Band.
He has been involved in many innovative projects, including "The Guitar Orchestra" and "Wind In The Willows". He was Samantha Fox's first producer. Ray is perhaps the only English rock musician who has successfully worked in Holland and tasted success with Dutch bands, Tee Set and After Tea.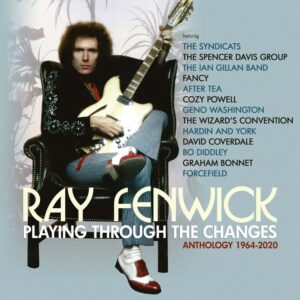 Due to his association with Roger Glover, Jon Lord and Ian Gillan in the seventies, he has now become part of the "Purple" family.
A brilliant all-rounder, with an enviable rock pedigree. Ray Fenwick.
Most recently Ray has been working with dance/electronic musicians David Harks and Garry Cobain (The Amorphous Androgynous), showing that 60 years on he is still at the cutting edge.
Ray's website gives access to a potted history from the 1960s onwards, and signposts recent releases.
April 2021 saw the release of a definitive anthology of Ray's work: Playing Through The Changes via Cherry Red Records.
STOP PRESS! "We Persuade Ourselves We Are Immortal" The Amorphous Androgenous gets digital release on May 21, 2021