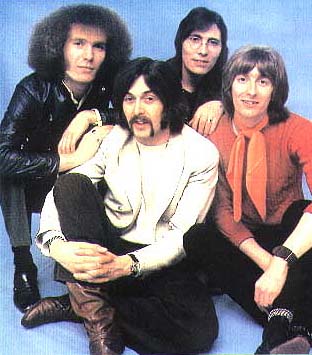 Spencer Davis Group in 1969
(left to right, Ray, Spencer Davis(guitar,vocals), Dave Hynes(drums), Dee Murray(bass)
Stevie Winwood had not long left The Spencer Davis Group. Although work had started on the band's next single, his replacement Phil Sawyer was restless.

Spencer Davis invited Ray to his hotel lobby for an impromptu audition.(This recalls a similar demo by Martin Barre for Jethro Tull's Ian Anderson). Ray was then invited to London.

He proceeded to dub backing vocals and guitar for the next single "Mr Second Class" but was able to wholeheartedly contribute to the album "With Their New Face On".

The following period is documented on the compilation, "Taking Out Time 67-69" which includes the previously unreleased "Letters From Edith" album. This was taped early in 1969 but the band broke up shortly afterwards.

There was a brief reunion in 1973 when The Spencer Davis Group reformed for a tour of the USA and two albums.